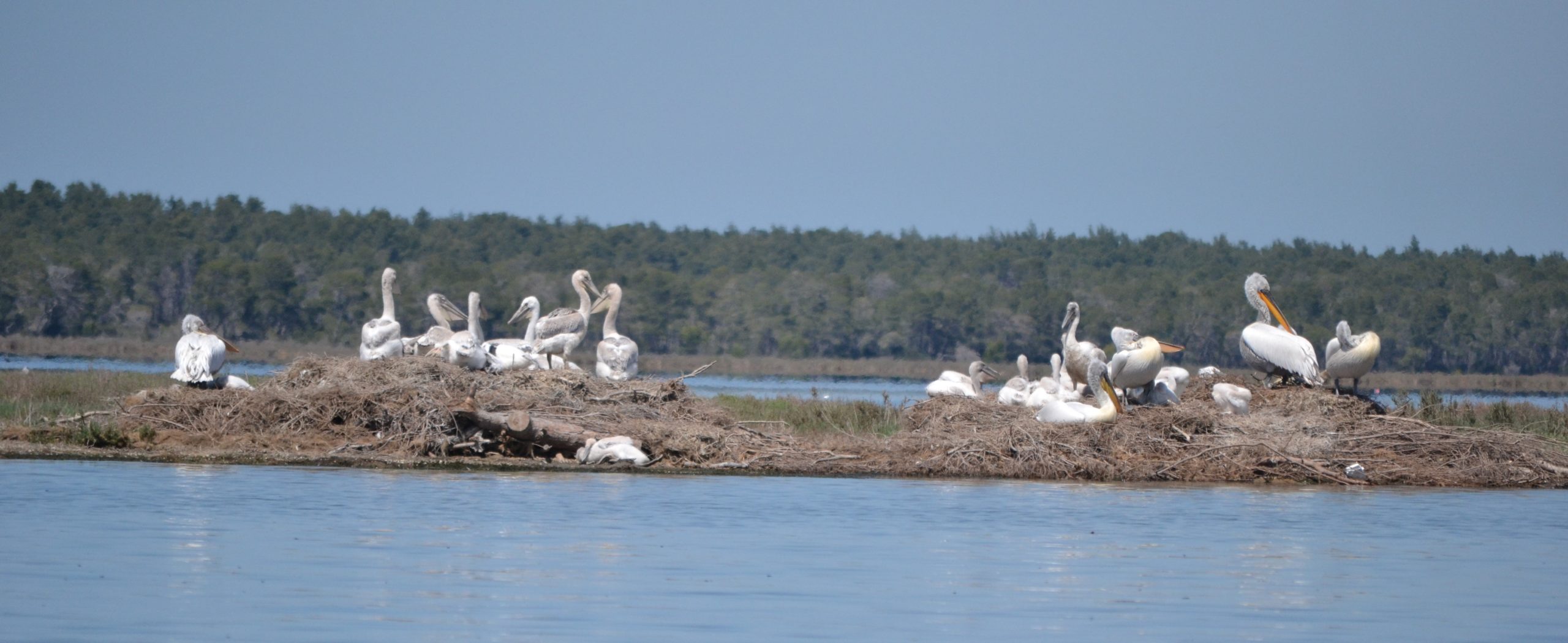 Wetland Management and Dalmatian Pelican Conservation in the Mediterranean Basin.
The program aims at conserving biodiversity and ecosystem functions by implementing an efficient management on three protected areas. It proposes to ensure a greater ownership of local communities for their natural heritage and in particular through an emblematic umbrella specie such as the Dalmatian pelican.
Due to their geographical locations, Mediterranean wetlands are essential for many species, including Palearctic migratory birds such as the Dalmatian Pelican (Pelecanus crispus) in particular. The Dalmatian Pelican is the rarest pelican species in the world. It is classified as Near Threatened on the IUCN Red List and in Albania has a CR status. This iconic species may be designated as a conservation-dependent species i.e. that shall remain endangered in the absence of ongoing conservation efforts.
The programme "Wetland Management and Dalmatian Pelican Conservation in the Mediterranean Basin" intends to support the management of three remarkable wetlands, all listed as Wetlands of International Importance by the Ramsar Convention: Kerkini Lake National Park in Greece (pilot site), Skadar Lake National Park in Montenegro and Divjake-KaravastaNational Park in Albania though out these objectives: (i) Gathering necessary knowledge on Dalmatian Pelican and its habitat for an optimal implementation of site-specific conservation plans for the Dalmatian Pelican and of PAs management plan; (ii) Implementing a regional network of effectively managed PAs, thanks to improved local capacities; (iii) Engaging local communities in sustainable development, respectful of the Dalmatian Pelican and its habitat; (iv) Mainstreaming environmental issues and threats to the Dalmatian Pelican among communities, and therefore integrating environmental issues within relevant local policies and economic activities.
Timeframe: Up to 2019
Funding: MAVA Foundation
Country: Albania, Montenegro, Greece
Partners:
PPNEA – Protection and Preservation of Natural Environment in Albania; RAPA Fier – Regional Administration of Protected Areas Fier; INCA – Institute for Nature Conservation in Albania; CZIP – Center for Protection and Research of Montenegro; Noe Conservation; EuroNatur – European Nature Heritage Fund; SPP – Society for the Protection of Prespa; Tour du Valat – Research centre for the conservation of Mediterranean wetlands;KMA – The Kerkini Lake Management Authority; Pelican SSG-IUCN WI – The Pelican Species; Specialist
Group – IUCN & Wetlands International;
Donate
Your financial contribution can be of massive help for us to work on safeguarding the future of the natural environment in Albania.