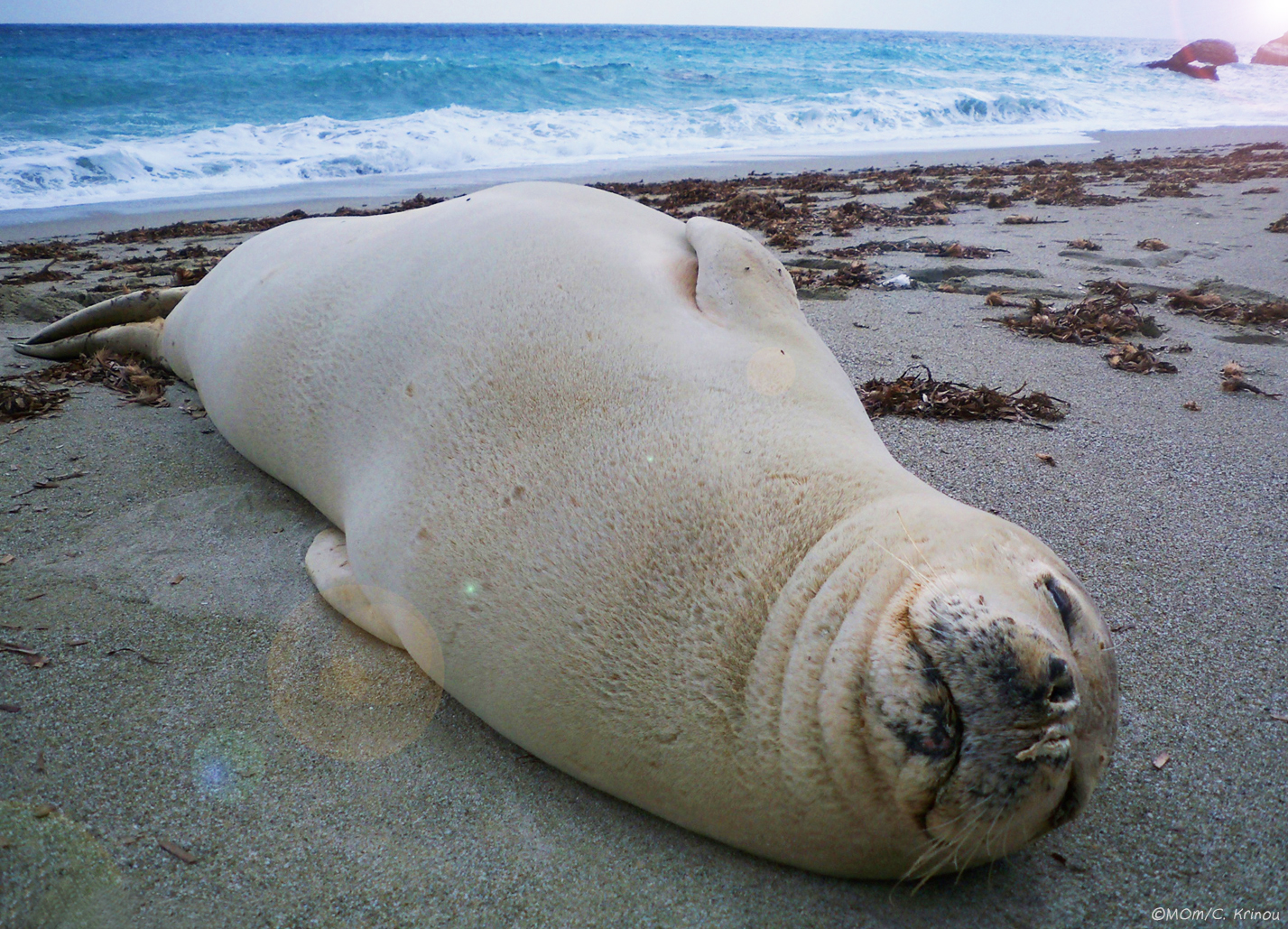 Scientific name
Monachus monachus
General information
The Mediterranean monk seal (Monachus monachus) is the rarest seal in the world and the most endangered marine mammal of Europe. It was once widely and continuously distributed in the Mediterranean, the Black Sea and in the North Atlantic but today the distribution of the Mediterranean monk seal is highly fragmented and consists of three to four isolated subpopulations. In the Mediterranean Sea, the stronghold of the species is around islands in the Ionian and Aegean Seas, along the coasts of mainland Greece, Cyprus as well as western and southern Turkey.
Adult males have a length of 2.4 metres and a weight of approximately 315 kilos, while adult females have a length of 2.0 –2.4 metres and a weight of approximately 300 kilos.
The differences between the two sexes are also located in the colour of their pelage. Females vary between brown-beige and grey-silver with lighter shades on the belly. Males are dark grey or almost black with a distinct white spot (patch) on the belly. New-born pups have a length of approximately 1 meter and weigh 15 – 18 kilos. Their dark brown or black fur has a length of 1 – 1.5 cm which is replaced, after 6 to 8 weeks, by the characteristic shorter fur of the adults. On their belly there is a big white patch; the shape of this patch differs between males and females and is unique for every individual.
Food
The Mediterranean monk seal eat different types of common fishes, squid, octopus, eels and crustaceans.
Habitat and Distribution
According to the most reliable estimates, there are less than 700 individuals left worldwide. In the North Atlantic, two subpopulations exist: one at Cabo Blanco ("Cap Blanc") at the border of Mauritania and Western Sahara and one at the Archipelago of Madeira. More than a half of the remaining population lives in the eastern Mediterranean Sea, and some are occasionally sighted along the coast of the Adriatic Sea. Greece is the last stronghold for the Mediterranean monk seal in the eastern Mediterranean Sea. With more than 16.000 km of coastline, Greece offers an ideal and most likely the last suitable extensive habitat for the species in the world.
Status
According to IUCN Red List (2015), it is considered "endangered". Persecution throughout the centuries has led to its disappearance from the biggest part of its range.
Your financial contribution can be of massive help for us to work on safeguarding the future of the natural environment in Albania.
Donate Now