On the 27th of February 2021, during a practical session of BirdID and BirdON in the Thana Reservoir or Murriz Reservoir, as it is otherwise known (part of the Berat / Fier and Elbasan counties), 4 individuals of the Tundra swan (Cygnus columbianus) were observed.
Unlike the other two species of swans seen in our country (Mute swan – Cygnus olor and Whooper swan – Cygnus cygnus), the Tundra swan is rarely encountered, counting six previous observations in Thane in 1996, 2003, 2013, 2014, 2017, and 2019, in Kune-Vain in 2004, as well as an observation in Divjaka in 2011.
The Tundra swan breeds in the Arctic, from the Kola Peninsula in the Palearctic and extending throughout the Siberian tundra, further into the Arctic from Alaska to the Anderson River Delta in Canada. The breeding population of Siberia winters further south in the Palearctic and Indomalajas, while the Nearctic population winters south of the same area. The wintering of this species, not only in our country but in all the countries of the eastern Adriatic, is rare. However, it is found regularly and in large numbers in the Aegean and the Black Sea.
One of the individuals observed was equipped with a satellite transmitter. The contact with our colleagues enabled us to learn that this swan was born in August 2019 in the wetlands of the Pechora Sea (Siberia, Russia) where it was equipped with the tracker from Dr. Didier Vangeluwe (Belgium Ring Center, Royal Belgian Institute of Natural Sciences). From here, the Tundra swan has traveled thousands of miles to spend the winter in the Evros River delta between Greece and Turkey. The bird first stays in Lake Kerkin and appears on January 1st, 2021, in Lake Thana, Albania, where it stays until the morning of February 27th, 2021. Now the species seems to have taken the road back to its homeland again.
As the monitoring data shows, the eastern Balkans has become an important wintering ground for the Tundra swan, while wintering cases in the western Balkans, although rare, show that Albanian wetlands are a preferred place for migratory waterbirds.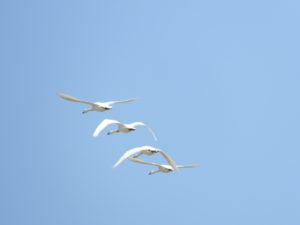 © PPNEA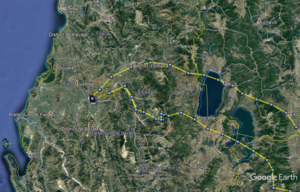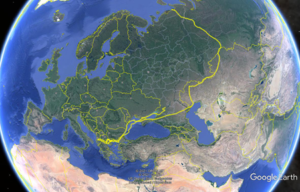 Migration route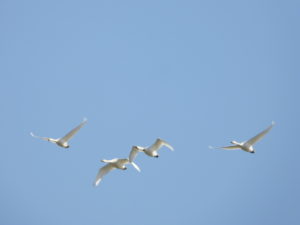 © PPNEA