The arrival of the spring season coincides with the arrival in our country of many migratory bird species, who come from Africa to nest or create their family in our country. One of them is the White stork, a species that carries the status "Critically endangered" in Albania, according to the Flora and Fauna Red list.
The pair of White storks returned to their nest, in the platform installed by PPNEA in cooperation with OST and RAPA Gjirokaster, and is already considered an "old resident" and "loyal friend" of Gjirokastra. The first days after the #FlightforSurvival, the storks have been adjusting their nest and strengthening their bond.
The construction of these nesting platforms helps to increase the number of nesting sites, which are becoming lesser than ever for this species. With the installation of these platforms and the increasing of breeding success, we can hope for the recovery of the population of this species in our country.
We thank Albania Birds Albania and OST for informing us of the arrival of the White stork pair, and we wish that at this season our White storks pair will break the last year's record of 5 birds hatched!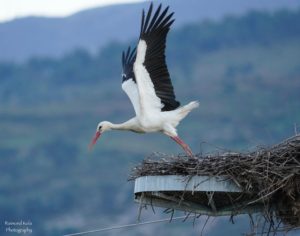 © Raimond Kola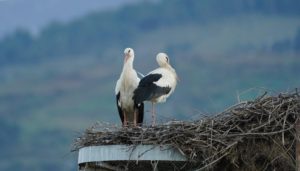 © Raimond Kola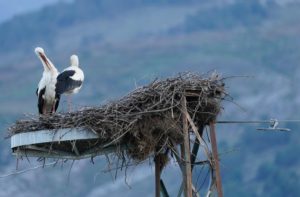 © Raimond Kola