The beginning of April welcomed the Spring Messengers in the city of Gjirokastra, who immediately started the "fortification" of their nest. Due to this reason it was hard to distinguish the exact number of hatchings on the first days of their new life.
Usually, the white stork lays 2 to 4 eggs which are fed by their parents after hatching, until they improve their own hunting skills and get ready for their first
#flightforsurvival
toward the wintering sites. Unfortunately, this ritual is getting more and more difficult due to the habitat loss leading to the decrease of food sources.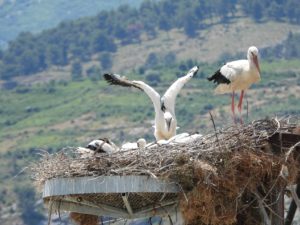 The good news is that the most famous nest in Albania now has 5 storklets under parental care, breaking the usual rule on the number of laid eggs. Regardless this optimistic news, the survival of the chicks will be a challenging mission taking in consideration that Viroi lake which is the main source of food, will be completely dried from during the August causing a lack of food sources.
Meanwhile that the exact number of young storks can't be distinguished in all the nests yet, one of the stork pairs localized in have already abandoned the nest, thus interrupting the breeding season.
The breeding platform have been a successful measure until now to mitigate the electrocution and to create new breeding sites for this species. Considering this, PPNEA will keep on installing new breeding platform to help on the recovery of white stork in Albania.