During this season, near the Important Bird Area at Lalzi Bay (IBA), PPNEA has monitored the breeding of Collared Pratincole (Glareola pratincola). Alongside the monitoring process at the existing colony, our team expanded the research inside the area into potential habitats where this species could breed.
We are excited to show that we found another breeding site at 1 km of aerial distance from the previous colony, with at least 70 up to 100 breeding pairs. At the moment of discovery, around 70% of pairs were at the last days of incubation, while at the others, the age of hatchlings were not more than 7 days. At the previous colony, only in a small part of nests we could witness incubation, while at the others, the birds had hatched and some of them were taking the first flights.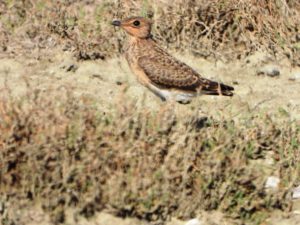 Such new discovery makes this colony, possibly, the largest one in Europe for this species with at least 200 up to 230 pairs. We base this statement into the actual research, which shows that only 6 countries in Europe have reported populations with up to 500 pairs for this species. Among them, the possibility of the existence of such colony can occur in one or two countries, where the information for breeding of this species is not available. This discovery, makes the area that we studied, possibly, the most important in Europe for the breeding of Collared pratincole.
This area serves as an excellent habitat for this species, especially for breeding and also for providing large sources of food.
We want to thank our volunteers from
#BirdsofAlbania
, who helped into the monitoring of this colony along this season.