Albania provides many suitable sites where the migratory birds can stop to regain their energy. One of these ecosystems are the Prespa Lakes. However, there are not enough data about the migratory bird species that can be found there, or about the migratory routes that they follow.
In order to fulfil this gap, our team organized a bird banding camp in different areas of the Prespa Lakes. The bird banding process itself provides important data, like identifying of the species present in the area, measuring different morphological characteristics, and also ringing them with a coded metallic ring that serves for information exchange between the scientists.
Staff from PPNEA and Birds of Albania guided by the long term experienced Albanian Bird Ringing Scheme managed to ring a considerable number of bird species, including the Collared flycatcher, Common redstart, Common chiffchaff, Northern wheatear, Western subalpine warbler, Sombre tit, Western yellow wagtail, and many other bird species.
Young birdwatchers from the school in Dolna Gorica/ Goricë e Vogël together with nature enthusiasts joined us during the camp, while being able to observe the process from up close. Learning methods like this one, by being able to also entertain are very effective for the learning process also for increasing the bond between the children and nature.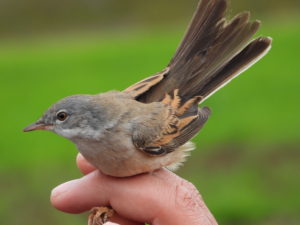 © Z. Vorpsi / PPNEA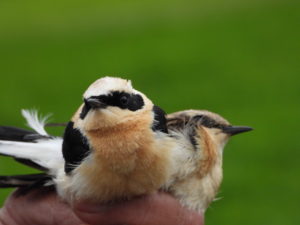 © Z. Vorpsi / PPNEA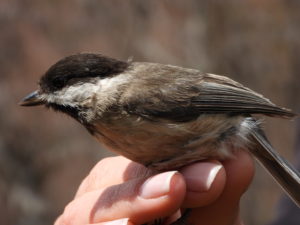 © Z. Vorpsi / PPNEA