After many sessions held so far, the BirdON team continues the "tradition", already visiting various wetlands in our country. Through these practical sessions, students are learning not only about the different species of birds that populate these areas, identification, and differences between them, but also the diversity of wetlands that our country is characterized.
The team of young birdwatchers recently visited one of the most important wetlands in Albania, the Karavasta lagoon. Karavasta Lagoon, part of Divjake- Karavasta national park, listed since 1994 as a Wetland of International Importance (Ramsar), or since 2003 as an Important Bird Area (IBA), represents an "oasis" for wildlife and especially for the avifauna.
During this session, our students identified and counted over 40 species of birds, among which, we can mention the observation of the common gull (Larus canus), gadwall (Mareca strepera), individuals of the Eurasian spoonbill (Platalea leucorodia), large groups of waders, and other species of ducks, terns, or even birds of prey. However, the most impressive and special sight for all was the gathering of about 200 Dalmatian pelicans on one of the islands. Divjaka – Karavasta National Park represents the only nesting site for the Dalmatian pelican in Albania.
Our team was accompanied by representatives of AdZM Fier, who offered their assistance during the field and also discussed with students the natural values or ecological importance of this area.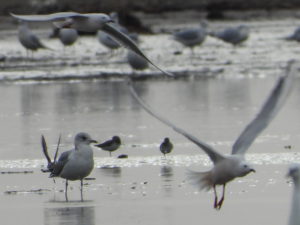 ©Z. Vorpsi / PPNEA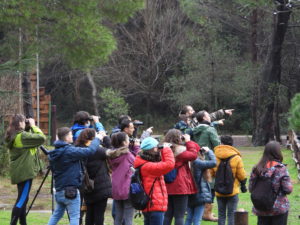 ©Z. Vorpsi / PPNEA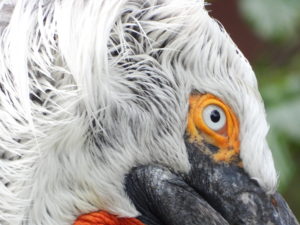 ©Z. Vorpsi / PPNEA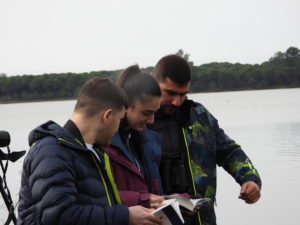 ©Z. Vorpsi / PPNEA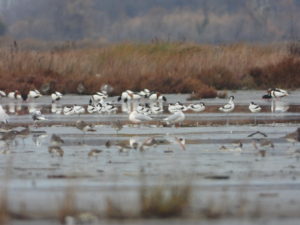 ©Z. Vorpsi / PPNEA