PPNEA's team last weekend visited the roost of the lesser kestrel in the Drino valley. From the first monitoring, about 330 individuals of this species were counted, indicating that the congregation of the lesser kestrel (Falco naumanni) in the roost has already begun. Just after sunset, the majority of the kestrels began gathering and concentrating in the roost, with only a few individuals making active flights at dusk. In the upcoming months, their number is expected to increase, and reach up to thousands of individuals, before the beginning of the migration towards wintering grounds in Africa.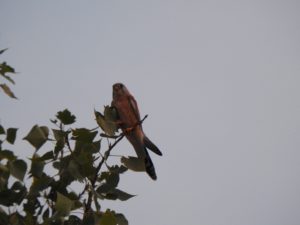 The roost of the lesser kestrel in the Drino valley is not only the largest in Albania but is considered the largest in Europe. From previous data, the number of individuals observed in the roost was estimated to be 4000-6000. This species, since the 50s, has lost about 95% of breeding individuals in the European countries, while in our country, is part of the red list, carrying the status "Vulnerable (VU)".
PPNEA will continue the monitoring process and update with the recent data from such inventory in Albania.