The protection of the environment is an issue that requires the attention of a large number of actors, such as public institutions, private enterprises and NGO-s. The cooperation among them is the foundation from where the long-term conservation of nature should be built, where shared aims should direct concrete actions for the improvement of problematic situations.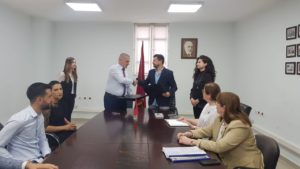 The chairman of #KLSH Mr. @BujarLeskaj stated that: "This agreement modernizes and strengthens our institution". Furthermore, he underlined: "We all need to protect and protect the environment. The whole world is facing problems related to it, which are affecting our lives and will damage even more the lives of the generations to come, if we all do not contribute today".
The cooperation with PPNEA will be focused on two Audit Departments, such as the Performance Audit Department and the Asset and Environment Audit Department.
PPNEA appreciates the commitment of
#KLSH
to cooperate regarding environmental issues, which are of a special importance, because they concern us all.