PPNEA for years has been working in conserving and recovering the population of the Egyptian vulture in Albania. The Egyptian vulture, the last of the four species that still breeds in our country, apart from facing many threats like agricultural chemicals, veterinary medical products, electrocution, and collisions with energy infrastructure, and direct persecution, has to deal with a more major threat: poisoning or the so-called "silent killer", caused by the use of poison baits due to human-carnivore conflict. For mitigating this threat PPNEA has undertaken direct conservation measures and one of them is the construction of two supplementary feeding stations in southern Albania. This action is considered a key management tool for the conservation of this scavenger and can help in decreasing the main threat of this species in Albania and along the Balkans.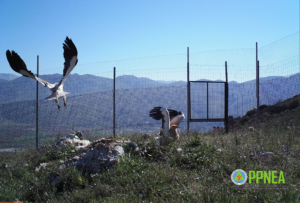 For this year supplementary feeding represented a huge success. Since mid-March 2020, PPNEA started to supervise and maintain these stations, which have been fully functional, and thanks to the camera trap, regular visits of the Egyptian vulture individuals have been documented and also for other raptor species. After checking and analysis of the camera traps from April till the beginning of June more than 400 photos of Egyptian vulture presence in the stations, visits either of single individuals or of pairs have been collected. "The cherry on the cake" for everyone was the first photo and video for 2020 of EV in Kurveleshi station. The adult has been observed and captured while inspecting the station and tasting the fresh and delicious food, supplied by the members of the network "Savers of Egyptian vulture" (SEVN). Thanks to this support, the stations are being continuously maintained and circa 40-30 kg of food is delivered once per month / three weeks for the local pairs of Egyptian vultures. Another great surprise provided by our "paparazzi" is the visit of the majestic Golden Eagle in both of the SFS.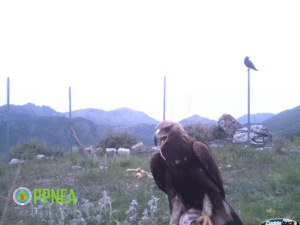 In the frame of the "Egyptian Vulture New LIFE project", a network of supplementary feeding stations are operating to support the remaining Egyptian vulture population – respectively 2 in Albania, 3 in Bulgaria, 4 in Greece, and 1 in North Macedonia. For more detailed information please check
here
the report.