In the framework of identifying potential Natura 2000 sites within Vjosë-Nartë-Pishë Poro ecosystem , PPNEA together with RAPA Vlorë organized an expedition in order to gather data regarding the presence of Eurasian otter (Lutra lutra) and golden jackal (Canis aureus), which are both part of the European Directive of Habitats.
We focused our monitoring work to the south side of the protected area, including Narta's lagoon and Akërni. Through this expedition our research group gathered secondary data about the presence of Eurasian otter in the area like scats, tracks and remained food. Furthermore we encountered even the tracks of a golden jackal. Locals provided us important information regarding the presence of wolfs into the area, a fact that was proved latter by our team when we found a road killed individual.
This activity was financed by the European Union and EuroNatur Foundation.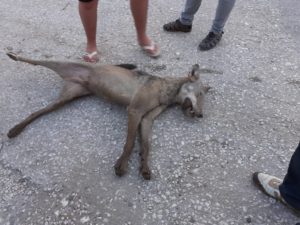 © PPNEA, A road killed individual of wolf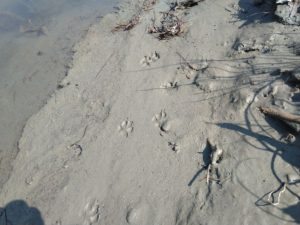 © PPNEA, Tracks of golden jackal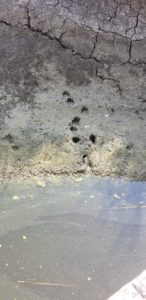 © PPNEA, Eurasian otter tracks