With the pupils of the 9-year school '9 Tetori' of Saranda, a summer camp was organized by PPNEA under the framework of Spring Alive.
Under this year's theme of Spring Alive "How can we protect bird nests", the children visited the nesting platform of the White stork (Ciconia ciconia) in Gjirokastra, built by PPNEA, OST, and RAPA Gjirokaster, RAPA Fier. Through a conversation with the director of RAPA Gjirokaster, the children learned more about the White stork pair, the way they built the nest, behavior, and the care that parents show for their young. In addition, students had the chance to learn more about other migratory bird species of the area such as Egyptian vulture, lesser kestrel etc.
The next stop for the children was the Vjosa-Narta Protected landscape and Divjaka-Karavasta National Park, where they informed about the importance of these areas, the diversity they carry, and also were introduced to the 7 birds species of Spring Alive, where some of them were observed during this tour. Such activities are very important for children, as it enables them to get to know more about nature and to become aware of the importance of preserving it.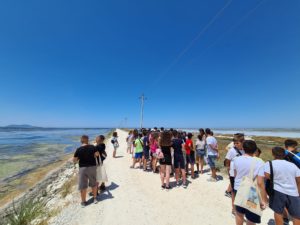 © PPNEA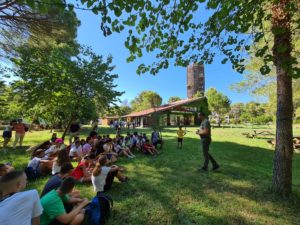 © PPNEA