In April, our team took some conservation measures for the species of terns in order to increase their breeding success in the Vjosë-Nartë Protected Landscape. The natural nesting sites created by cleaning and adapting the islands marked a huge success. After a very short time these habitats were populated not only by the Little tern (Sternula albifrons), but also by the Collared pratincole (Glareola pratincola).
In the new nesting spaces were counted around 35 nests of the Little tern and 10 nests of the Collared pratincole. Creating nesting spaces for birds is important for increasing the breeding success of the species as well as for recovering their population in the area.
Vjosë-Nartë Protected Landscape is one of the most important bird areas in Albania. Its habitats are used by both migratory and resident species, making the area internationally important for nature conservation.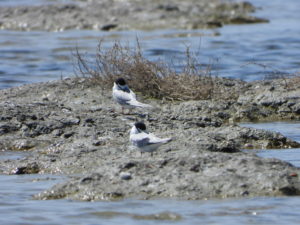 (Sternula albifrons) © Z. Vorpsi / PPNEA